Went to see Busy P last night at LOVE, and from what I remember, had a good ol' time. It was Mark Ronson's birthday party, but he wasn't spinning apparently. Wasn't really feeling the stuff his mashup pal was playing, so I headed for the love cave, when en route, I bumped into Armand Van Helden again, and I couldn't help but put on my best Bangalter-Vocorder voice and went all teachers "Van Helden in the House...yeah!". I dont think he liked it (and i think i'm okay with the idea that AVH probably dont like me too much).

Then I make a u turn, and see another house legend, DJ Falcon in the building. He mentions that he's been in town since the Daft Punk Show in Brooklyn on August 9th and was finally heading back to what sounded like Versailles this week. However, he's apparently got a Photo exhibit up at a gallery on 21st street in the gallery district (I couldn't make out what he said exactly with the noise and the French accent, but he mentioned that the reception was Thurs. August 9th at "the place in the Red building. Just look for the red building". Okeydokey. So make it out there and support the guy who brought us some of the greatest French house tracks of all time. If you can find the redness. I also begged Falcon to come play in NY soon, and he said that he might have something planned for October. Stay tuned.

UPDATE: The Gallery for DJ Falcon's Photos is Cueto Project, 551 West 21st St., 3rd Floor. The Exhibition will be open from Sept. 3rd-Oct. 6th, with the reception on Sept. 6th (today, thurs.) from 6-8pm. Cueto Project Website

From there things get a little hazy. Not exactly sure what is in those Yo-Yo 40s, but I got a little out of hand. Busy P was a great time, and he really is not just a good purveyor of music, the guy can spin for reals. It made me feel bad that i missed the other 2 shows this week. He also seemed completely psyched that AVH was in the building.

If anyone got any great pictures of the party, please send 'em to me, and i'll put 'em up.

Other notes of my own personal interest.

Justice added another show at Terminal 5 on Oct. 22nd (Perhaps this is with Falcon--totally out of the blue guess from me). Tix on sale friday through the usual suspects. The other one sold out quick as fuck, so you may wanna get on this early.

Disco Pioneer Nicky Siano is playing the Cooper Hewitt Design Museum 6-9pm this friday night.

Also, there's apparently a great-looking free house event this weekend in Prospect Park with DJ Spinna, The Martinez Brothers, and others. I'll be out of town, but make sure to take pictures and cut a rug for me.: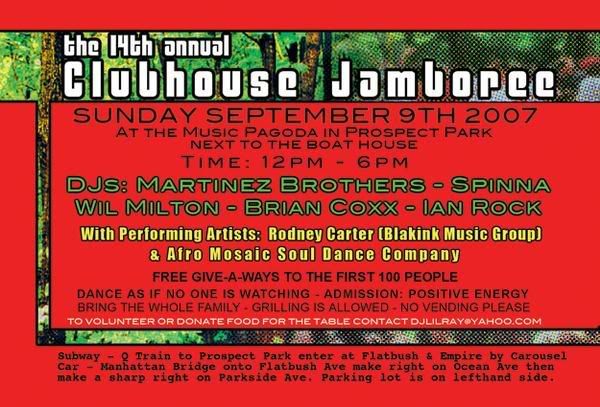 Best Wishes,
e.